Ann Zylstra, PT, VRT
Physical Therapist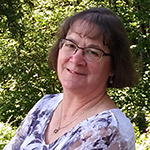 Ann Zylstra, PT earned her physical therapy degree from the University of Utah in 1986. Having been a collegiate swimmer at Washington State University and being very involved in sports activities has led her to a career as a physical therapist.
Though born and raised in beautiful Montana, Ann has lived and worked, as a physical therapist in the greater Seattle area for 32 years. Through these many years of clinical care and numerous continuing education courses, Ann has gained exceptional clinical skills.
Ann treats a variety of patients with orthopedic and neurological diagnoses. She specializes and is very experienced in the treatment of vestibular dysfunction, Parkinson's disease and other neurological disorders.
She helped found the Booth Gardner Parkinson Center in 2000 and has lectured on Parkinson's disease throughout the United States.
She is a certified specialist in Vestibular Rehabilitation, Cervicogenic Dizziness, Vestibular Test Interpretation, and Instrument Assisted Soft Tissue Mobilization. With a commitment to provide quality care, Ann emphasizes on wellness and injury prevention.
Ann enjoys biking, hiking, swimming, reading and spending time with her family.