Esther Bannwart, LMT
Massage Therapist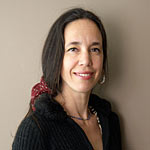 Esther Bannwart, LMT graduated in 1988 from Dr. Jay Scherer's Academy of Natural Healing in Santa Fe, NM. She has been continuously practicing massage, having her own clientele and also being apart of a diverse team of bodyworkers at "10,000 Waves", a high end spa in Santa Fe.
Esther joined the Core Physical Therapy Group in 2002. Her main focus in the last seventeen years has been to use the healing techniques of Deep Tissue, Myofascial Release, LomiLomi and Cranial massage.
She applies her keen intuition and training as a dancer and yogi to assist with a client's need for healing due to injury, trauma, stress or imbalance.
"I enjoy ongoing study and practice of Self Healing and love to empower and support others in that"