Bike Fit
Bio of Core's Bike Fit Specialist Jenny Iyo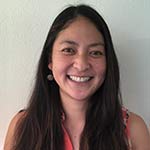 Jenny Iyo, PT, DPT, grew up in Hilo, Hawaii. She holds a degree in Natural Science from the University of Puget Sound and a Doctorate of Physical Therapy from A.T. Still University in Phoenix, Arizona.
Jenny works as an outpatient orthopedic physical therapist, with a special interest in bike positioning/fit. She believes that biking is a great way to stay active and that a properly fit bike can greatly improve comfort and performance. Jenny believes that addressing bike positioning in a manner that is uniquely tailored to the rider's neuro-musculoskeletal system is integral in addressing and preventing physical dysfunction on the bike.
Jenny has been riding around the greater Puget Sound area for the past 9 years. She is in constant awe of the beautiful places that you can get to from Seattle on just two wheels! Jenny uses her bike to commute, for exercise and to go camping.
Jenny practices at our Columbia Center and South Lake Union clinics.
Bike Fit Menu:
$250 for one 60 minute evaluation with necessary adjustments and equipment recommendations and 40 minute follow up.
On bike assessment of posture, biomechanics, and joint angles.
Off bike assessment of joint range of motion, flexibility and strength.
Bike fit = We assess the fit of your bike and evaluate the three points where your body comes into contact with your bike: foot to pedal, butt to saddle, and hands to handlebars. We then make tailored adjustments to your bike based on your musculoskeletal anatomy and recommend equipment for purchase if necessary.
Preparation:
Please bring your bike along with any equipment that you typically use while biking, e.g. padded shorts, gloves, shoes, etc.
F.A.Q.
Is pain while riding a bike normal?
No! People often accept pain while biking as a norm, but it absolutely should not be. If you are experiencing pain during or after bike riding, chances are that either your bike positioning or your biking technique are the main contributing factors.
Is numbness while riding a bike normal?
No! Numbness in your hands or feet could be an indication of nerve compression at the points where your hands and feet meet your bike, or proximally in your spine. A physical therapy assessment of your musculoskeletal system in combination with a bike fit can help to tease out the causes of numbness and help to eliminate them.
What is a bike fit?
A bike fit analyzes you, the rider, on a bike that you bring into the clinic. While riding your bike on our indoor stationary trainer, your bike fitting specialist is able to analyze your bike positioning in a dynamic way. Pedaling technique, bike measurements, body joint angles and the three points of contact (feet to pedal, butt to saddle, hands to handlebars) are assessed. After assessment, your bike fitting specialist makes adjustments to your current bike that will improve positioning. These adjustments include cleat positioning, saddle height/fore-aft, and handlebar/brakehood positioning.
Who is appropriate for a bike fit?
Bike fits are appropriate for riders of all experience and abilities. Whether you are just starting out on a new bike or you have been riding for years, a bike fit can improve comfort while biking and minimize your chance of injury.
How does a physical therapy bike fit differ from one that I could get at a bike shop?
A bike fit performed by a licensed physical therapist analyzes both the bike and the bike rider's neuro-musculoskeletal system. People often seek bike fits due to pain or discomfort experienced while riding. A physical therapist is uniquely qualified to analyze and treat these types of pain due to their specialized training and understanding of the human body and movement dysfunction.
Do you sell bike parts/equipment?
We do not sell bike components; however, your bike fitting specialist may make specific recommendations on what parts to purchase in order to improve your bike fit if necessary.
What should I bring to a bike fitting?
Bring your bike along with any equipment that you typically use while biking, e.g. padded shorts, gloves, shoes.
You may be interested in these articles:
Introduction to Cycling 
Stretching Guide for Cycling
Guide for Selecting Cycling Equipment